Bridal Beauty
THIS IS THE ONE DAY IN YOUR LIFE YOU SHOULD LOOK YOUR BEST!!!
A beauty look that is specially designed for photography and real life are two very different things. It is the role of the wedding beautician to balance these two extremes and come up with a look that will have you feeling beautiful and radiant, yet not masked by heavy makeup. It takes a great deal of training and know-how to get the mix just right, which is why we recommend professionals for the job. The added bonus is that you get to sit back and relax while someone works their genius on you during the build-up to your special day. Choose hair and makeup artists who share a similar vision to yours. If you would like cutting-edge hair and makeup, you do not want a stylist who might try to persuade you to stick with a more classic look. First meet with your maestro to ensure that you see eye to eye. It is important you work together to establish a style that will work best for you. Their judgement has been fine-tuned over time and sometimes you will need to compromise, but you'll be thankful when the final look reflects their foresight! Skilled beauticians, makeup artists and stylists really know what to look for and what features to accentuate so they can send you down the aisle looking your very best.
At one time or another we've all left the house looking glamorous, only to get quite a shock when we later realise what a disaster our face has become over the course of an evening – imagine if this happened on your wedding day! I know I'd rather not. Professionally applied makeup is layered to ensure that it stands the test of time so you will glow and look amazing; from the moment you step out until you say your goodbyes at night.
Your wedding is the perfect opportunity to revel in a pampering from head to toe. Cleanse, buff and polish everything and you will feel a million dollars. Splurge on massages, body wraps, and anything you have ever dreamed of – this is the biggest excuse you'll ever get. For the day in your life when all eyes are on you, hold your head high and strut your stuff
In Malaysia, it is pretty common that the makeup artist is also skilled with the hairdo designing for brides. However, in some western countries, the makeup artist is just solely in-charge of makeup only and hairdo is in-charge by hairstylist.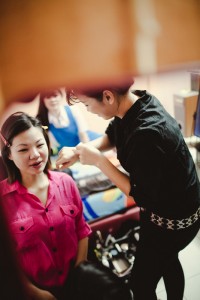 Have a trial! Whether you're going to engage the makeup artist and if their style suits you or not. During trial, this is where you discuss more in depth with the makeup artist about your style and if you could provide photos or sample of the style of makeup and hairdo that you have seen and looking forward for similar style that would be great! Next, is to describe to the makeup artist your chosen gown style be it for day or dinner makeup and how many gowns you would be changing and the colours of your gown. It would be best if you could provide or show to the makeup artist photos of your chosen gown. This way it will give the makeup artist a clearer idea of your expectation. This way, the makeup artist would be able to design and give advice to you on the best makeup style and hair styling for your image to be suitable and matching with the gown. Take two digital photos of the finished look, one with a flash and one without. This will ensure that the makeup will work in various lights. For the best result, have your trial at the same time of day that you will be getting married.
On the big day allow two hours for your bridal makeup application and hairdo session. Natural light is ideal when applying your makeup. If possible, set up your makeup station near a window or a bright lamp.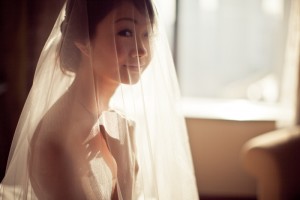 Ensure you had you had your early morning shower and feeling refreshed with a clean face, washed and dried hair for the makeup artist to work with. A strong base is a must-have to building a look that will last the entire day. Match the base shade to your neck, gradually build colour from there. Use a primer underneath your foundation to control shine and apply a lighter-toned concealer under your eyes to eliminate shadows, puffy eye bags or dark eye circle.
Brides whom is more westernised or Caucasian would prefer to have natural-looking tan look by using bronzer. As for Asian Brides, they prefer to have fair and bright looking skin on their big day and even love bright colours eye shadow to suit their gowns and follow latest trends from Asia. My personal advice is, not all latest trends suits every brides, ask your makeup artist for their best advice. Always remember to avoid shimmer and highlighting under the brow bone, the camera will read it as it shine. If your gown has an open neckline, don't forget to warm up your décolletage and neck with bronzer (if you have tanned skin) or some liquid foundation (suitable for fair skin) to cover up or balanced up your skin tone from décolletage to your face. You definitely don't want to look at your photos later, that your face and neck is totally two types of skin tone!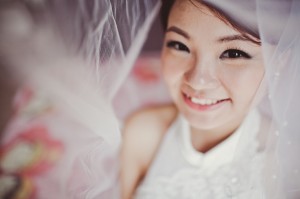 When choosing whether to wear lip gloss, consider your hairstyle and your location. For outside nuptials, gloss works if hair is worn in an updo. If you wear your tresses down, lipstick is a better option, as you don't want to have the wind blowing your hair and stick the lip gloss around your face and hair. No bride wants a photo with her hair stuck to her lips! Bear in mind, lip gloss tends to fade off quickly or if you had a bite or drinks. If your makeup artist left after doing your makeup, make sure you have lip gloss or lipstick with your bridesmaid that could help you touch-up. Otherwise, best option is to have your makeup artist following you on your event the whole day! Especially with Malaysia hot weather, makeup tends to melt if you are at an outdoor location.